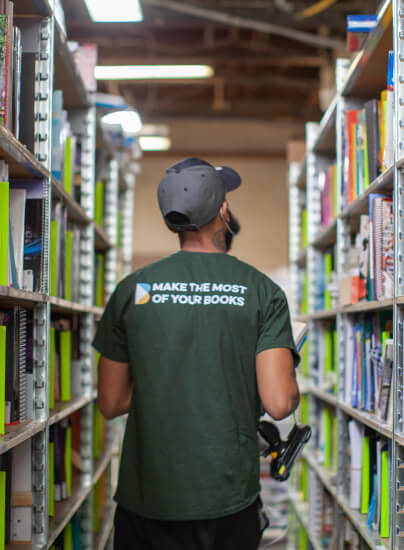 Founded in 2016
We are BooksUnited
At BooksUnited, we want to solve the major issues with books: help librarians get a solution for their weeded books, help procurement meet their budget and timeline constraints with curriculum orders, and help bookstore managers return funds for their deadstock and get great inventory that meets students demand for a variety of textbooks and their conditions.
We make books
available
to everyone
5 million
pounds recycled


Green promise
We are contributing every day to reduce deforestation by helping you reuse books as much as possible. We repair or recycle books. All our packaging is made out of recycled or fully recyclable materials. We also plant trees. We do our best to promote a mindful and sustainable approach to consumption. Join our forces to extend the life cycle of a book!
BooksUnited building
blocks
60 000 Square Feet of Books
+ the team of professionals taking care of our inventory = a solution to ensure you have access to any title you need on the day of your request!
Dedicated School Account Managers
Are there for you to reach out and help you solve any problem you face.
Partnership Managers
Make our services more customer focused and inventory more versatile with the help of partner companies (publishers, recycling companies).
Logistics Team
Ships and picks up your books as fast and smoothly as possible.
Purchasing Managers
Are searching the whole nation to give you the books you need even if we don't have them in stock!
IT Support
Automates the routine to make decisions better, generate quotes faster, and provide a seamless book-ordering process!

Dan Cullen, Bookstore Manager
Erie, PA

Grammar School Latin Teacher
Boerne, TX

Andrew Mershon, Bookstore Clerk
Rio Grande, OH

Dan Cullen, Bookstore Manager
Erie, PA
10 out of 10!
'Fast turn around! We will continue to use BooksUnited for our textbook souring needs.'
Bookstore Manager, Mercyhurst University

Grammar School Latin Teacher
Boerne, TX
Thank you so much for providing books to Geneva!
'The Cambridge Latin books arrived as expected. We received 54 hardback student books and 1 spiral-bound teacher's guide. The books look great! There were only one or two books with some minor wear on the spine due to packaging/shipping, but all the others were in good condition. I believe we will be using all the books that you sent. Thank you so much for providing books to Geneva!'
Grammar School Teacher, Geneva School of Boerne

Andrew Mershon, Bookstore Clerk
Rio Grande, OH
Fast and trustworthy book company
'BooksUnited was a fast and trustworthy book company that helped us in so many ways! Without the team, we would still have our dead stock sitting in the back of the store! I really enjoyed the customer service. The communication to make all of this happen was tremendous! Thanks again!'
Bookstore Clerk, University of Rio Grande